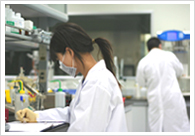 INNOPHARMAX has extensive pharmaceutical R&D experience, with former researchers who worked for the Medical and Pharmaceutical Industry Technology and Development Center in Taiwan (which is the most influential pharmaceutical technology developing organization funded by the Taiwan government),

INNOPHARMAX

's R&D team has been highly praised by numerous pharmaceutical professionals.

The Company has fully devoted to its R&D operations and has established its Research and Development Center dedicated to supporting the Company's lines of businesses and leveraging its scientific expertise to the Company's maximum advantage.

INNOPHARMAX

also undertakes contract formulation development of pharmaceuticals ranging from immediate release formulations (IR) to alternative dosage designs and controlled release formulations (CR), based on the company's technology platform and advanced equipments.



Service providing on platform



On the other hand,

INNOPHARMAX

has established partnerships with Contract Research Organizations (CROs) and continues to seek out new partners various of research and development areas in order to provide a full package for the clients who need a total solution for their product development.
Solid dosage forms
Tablets (immediate-release, controlled-release)
Capsules (hard gelatin and soft gelatin)
Microencapsulation (pelletization)

Liquid dosage forms
Emulsions (microemulsions)
Nanoparticle delivery
OralPAS

TM

Technology service Platform and
OralPAS PreTM

Technology service Platform
| | |
| --- | --- |
| | OralPAS® is a Self-Microemulsifying Drug Delivery System Technology |
| | Anhydrous system (or microemulsion preconcentrate) can be used in a liquid or solid dosage form |
| | Forms spontanously a very fine transparent/translucent dispersion in contact with GI fluid and water |